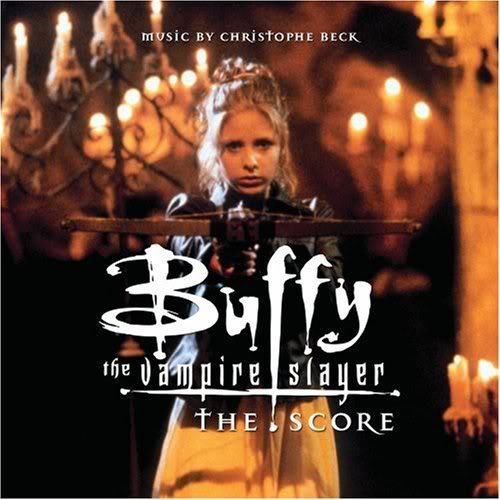 Elève de Jerry Goldsmith ( Star Wars ) à l'Université de Californie, le Canadien Christophe Beck fait des débuts remarqués avec la composition des musiques de deux séries apparues simultanément : The Practice et avant tout Buffy the Vampire Slayer , soit Buffy contre les vampires , diffusé à partir du printemps 1997 sur la chaîne Warner Bros The WB .

Pas moins de quatre albums découlent de la série qui rencontre un fabuleux succès, dans laquelle la jeune femme blonde se débat contre les forces du mal. The Score , paru le 9 septembre 2008, est la bande originale la plus emblématique. Celle-ci rassemble les principaux thèmes de différents épisodes, dont la plupart sont dû à Christophe Beck sur les saisons 2 à 6.

De façon traditionnelle, le compositeur associe chaque personnage à un thème précis, dans un registre symphonique des plus classiques, parfois réhaussé d'une guitare acoustique ( « Loneliness of Six » extrait de Lover's Walk ) ou d'instruments à vent. Sa patte, parfois teintée de macabre ( « Sugar High » ) se révèle efficace et accompagne en souplesse les images qui reviennent en mémoire à l'écoute de l'album. Sans grande originalité mais sans esbroufe, Buffy the Vampire Slayer: The Score peut s'écouter avec ou sans le support filmé. Son travail sur cette série fut récompensé par un Emmy Award en 1998.
Céline, administratrice de Smg-Design.
LISTE DES PISTES
1. « Massacre » – Christophe Beck
2. « Angel Waits » – Christophe Beck
3. « Remembering Jenny » – Christophe Beck
4. « Twice The Fool » – Christophe Beck
5. « Moment Of Happiness » – Christophe Beck
6. « Loneliness Of Six » – Christophe Beck
7. « Sugar High » – Christophe Beck
8. « Tai Chi » – Christophe Beck
9. « Kralik's House » – Christophe Beck
10. « Magic Snow Music » – Christophe Beck
11. « Slayer's Elegy » – Christophe Beck
12. « Faith's End » – Christophe Beck
13. « Drink Me » – Christophe Beck
14. « One Last Moment » – Christophe Beck
15. « Haunted » – Christophe Beck
16. « From The Grave » – Christophe Beck
17. « Demon Got Your Tongue » – Christophe Beck
18. « Golf Claps » – Christophe Beck
19. « The Princess Screams » – Christophe Beck
20. « Spellbound » – Christophe Beck
21. « Fyarl In The Morning » – Christophe Beck
22. « A Really Big Sandbox » – Christophe Beck
23. « Spaghetti » – Christophe Beck
24. « Body Paint » – Christophe Beck
25. « Xander's Nightmare » – Christophe Beck
26. « The Tower » – Christophe Beck
27. « Losing Battle » – Christophe Beck
28. « Apocalypse » – Christophe Beck
29. « Sacrifice » – Christophe Beck
1. « Massacre » – Christophe Beck
2. « Angel Waits » – Christophe Beck
3. « Remembering Jenny » – Christophe Beck
4. « Twice The Fool » – Christophe Beck
5. « Moment Of Happiness » – Christophe Beck
6. « Loneliness Of Six » – Christophe Beck
7. « Sugar High » – Christophe Beck
8. « Tai Chi » – Christophe Beck
9. « Kralik's House » – Christophe Beck
10. « Magic Snow Music » – Christophe Beck
11. « Slayer's Elegy » – Christophe Beck
12. « Faith's End » – Christophe Beck
13. « Drink Me » – Christophe Beck
14. « One Last Moment » – Christophe Beck
15. « Haunted » – Christophe Beck
16. « From The Grave » – Christophe Beck
17. « Demon Got Your Tongue » – Christophe Beck
18. « Golf Claps » – Christophe Beck
19. « The Princess Screams » – Christophe Beck
20. « Spellbound » – Christophe Beck
21. « Fyarl In The Morning » – Christophe Beck
22. « A Really Big Sandbox » – Christophe Beck
23. « Spaghetti » – Christophe Beck
24. « Body Paint » – Christophe Beck
25. « Xander's Nightmare » – Christophe Beck
26. « The Tower » – Christophe Beck
27. « Losing Battle » – Christophe Beck
28. « Apocalypse » – Christophe Beck
29. « Sacrifice » – Christophe Beck